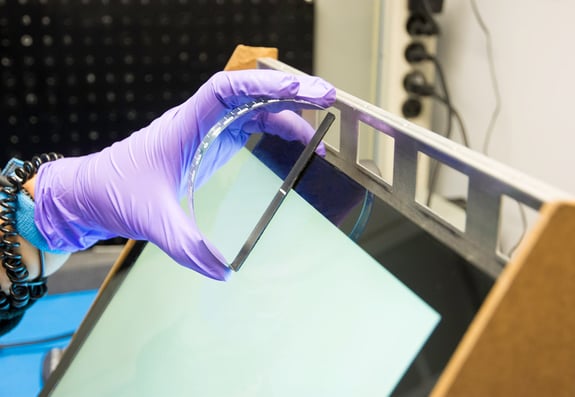 Dry Bonding
Why we apply the Dry Bond Process?
We create a bond between the cover glass and a screen(LCD or non-digital) using an optically clear polymer sheet. This process is performed in a vacuum chamber and yields void free lamination results. In simple terms, we dry bond layers to eliminate the air gap between a cover glass and the LCD screen.
NON-BONDED
In a traditional, non-bonded LCD display, there is an air gap between the cover glass and the LCD panel, thus the optical clarity is reduced and the sunlight reflection is increased, making it difficult to use in outdoor applications.
BONDED
Three layers are pressed together creating a ruggedized display with void-free results. The process also helps protect the display from dust and moisture.
When the layers are pressed together, the polymer layer fills the space between the cover glass and the LCD panel, removing the air between the layers.
The dry bond improves the optical clarity of the display and reduces reflection by approximately 8%, making it ideal in outdoor applications.
Dry Bonding Process Benefits
Once the dry bond is applied, the final product is less likely to get foggy, and the bond is stable up to an altitude of 55,000 feet (tested).
Dry bonding is a more cost effective system to implement than wet-bonding, and yields faster turnaround time.
It is possible to add additional layers of optical substrates to improve resistance to boot-kick or ballistic applications.
The finished product exhibits excellent resistance to vibration/shock.
We offer multiple dry bond materials, with different amplitudes, that fit your frequency range needs.